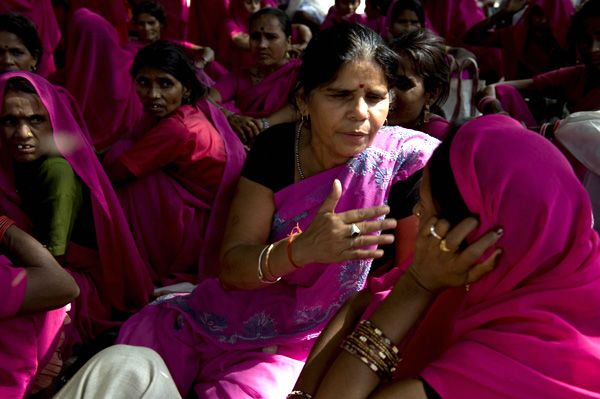 From
Slate Magazine
.
India is witnessing a rise of vigilante groups, the most sensational of which is the gulabi, or pink gang, operating in the Bundelkhand district of the Uttar Pradesh state. …

The founder of the gulabis is the fearless Sampat Pal Devi. …

Named after their hot-pink sari uniforms, the gang paid visits to abusive husbands and demanded they stop the beatings. When obstinate men refused to listen, the gulabis would return with large bamboo sticks called laathis and "persuade" them to change their ways. "When I go around with a stick, it's to make men fear me. I don't always use it, but it helps change the mind of men who think they are more powerful than me" says Pal. …

Pal has a long list of criminal charges against her, including unlawful assembly, rioting, attacking a government employee, and obstructing an officer in the discharge of duty, and she even had to go into hiding. Her feistiness has secured notable victories for the community, however. In 2008, the group ambushed the local electricity office, which was withholding electricity until members received bribes or sexual favors in return for flicking the switch back on. The stick-wielding gulabi stormed the company grounds and proceeded to rough up the staff inside the building. An hour later, the power was back on in the village.

While the gulabi use a mild level of force, more violent strains of vigilantism have been reported elsewhere in India among dispossessed women. In 2004, a mob of hundreds of women hacked to death the serial rapist and murderer Akku Yadav, after the courts failed to convict him over a period of 10 years. After the deed was done, the women collectively declared their guilt in the murder, frustrating police efforts to charge anyone with the crime.